DOD & Federal VTC Interoperability Standards - Presentation I did at the 2002 Fall Forum of the H.323 Forum on behalf of DISA.

Federal Telecommunications Recommendation 1080B-2002 on the NCS.GOV website or for the complete document - I was one of the three editors for this document and also worked on the previous version.
2/14 - HUH - "The NCS was disbanded by Executive Order 13618 on July 6, 2012." evidently swallowed by DHS
Download my copy HERE. ("...The National Communications System (NCS) was an office within the United States Department of Homeland Security charged with enabling national security and emergency preparedness communications (NS/EP telecommunications) using the national telecommunications system. https://en.wikipedia.org/wiki/National_Communications_System )

Patents granted (now assigned to Polycom) and pending for wireless conferencing systems and applications.
Photos of me doing Wireless communications market development activities in China for the application described in the patents.
Octave Improv (see the "pending" patent above), Frost and Sullivan award 2002 (not me in the photo)

ITU-T T.135 User-to-reservation system transactions within T.120 conferences - I was the Editor for this Recommendation.
Embedded Systems Conference 2004, San Francisco "Data Transports in Embedded Systems"
The DIANE Project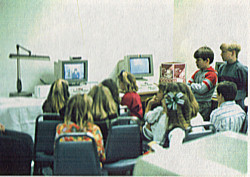 part 1 part 2 part 3 part 4 part 5 Pioneering desktop videoconferencing project involving PictureTel Corporation, IBM Corporation, Tennessee State University, South Central Bell, the HBCU Consortium, and the TVA.

IMTC Data Conferencing Activity Group Chair and recipient of IMTC Fellow (click on "Show more") award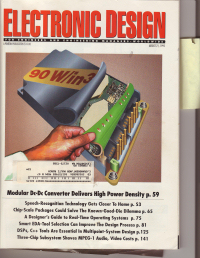 Electronic Design magazine 8/21/1995; Grandgent, Chuck; Harbison, Samuel
DIGITAL SIGNAL PROCESSORS AND C++ HANDLE THE NEEDS OF A NEW GENERATION OF MULTIMEDIA CONFERENCING SERVERS.

Designing a new generation of multimedia conferencing systems places many complex challenges before the development team: tight real-time processing; careful partitioning of software to account for varying degrees of time sensitivity; and employing versatile C++ application tools for system development. Overlaying all these is the need to adhere to many data-communication standards, some of which are still being refined.

These challenges faced the hardware and software developers at VideoServer, ...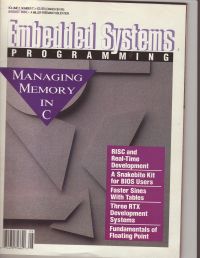 Embedded Systems Programming magazine "curing BIOS gotchas - aug 89 p50-55"